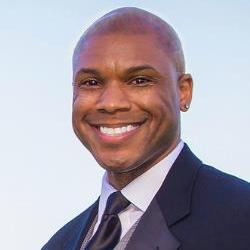 University of California, San Francisco
Department of Medicine, Division of Prevention Science
Center for AIDS Prevention Studies
Center for Vulnerable Populations (CVP)
Bakar Computational Health Science Institute
William Brown III, PhD, DrPH, MA (pronouns: he/him/his) Assistant Professor of Medicine                Founding Director, Clinical and Observational Data Excellence (CODE) Lab - code.ucsf.edu            Director of Diversity Equity and Inclusion, Bakar Computational Health Science Institute
Center for AIDS Prevention Studies | UCSF Prevention Research Center | Center for Vulnerable Populations Division of Prevention Science | Dept. of Medicine | School of Medicine | University of California, San Francisco
UCSF Box 0886 | 550 16th Street, 3rd Floor | San Francisco, California 94143 (415) 502-1000 ext. 17135 (vm only) | profiles.ucsf.edu/william.brown
---
My expertise is in both biomedical informatics and HIV clinical and behavioral research. I implement innovative biomedical informatics methods, create research tools, and follow the principals of community-based participatory research. My research aims to address health disparities among underserved communities (e.g., African American, LGBT, youth) and to create a Learning Health System that is responsive to vulnerable populations, particularly those at risk for acquiring HIV/AIDS.

My informatics research includes knowledge engineering, health informatics, comparative-effectiveness research, semantic harmonization, integrating and analyzing survey, geographic, and electronic health record (EHR) data, as well as developing infographics and data visualizations for patient-centered health information tools. I provide expertise in HIV, New Media, and mHealth and apply innovative informatics methods for the integration of diverse longitudinal data sets and the discovery of health markers. My main research activities focus on semantic harmonization, concept/knowledge representation, characterization of semantic heterogeneity, identification of common data elements, the development of an HIV-associated Entities in Research Ontology (HERO), and integration of diverse datasets.

As an HIV researcher, I specialize in systems design, implementation science, community-based participatory research, mHealth, and the use of New Media. I've developed, applied, and evaluated an mHealth system, and conducted a pilot study researching the feasibility and acceptability of using mHealth technology to support treatment adherence and to collect behavioral data in biomedical studies of HIV (e.g., Home HIV tests, PrEP, and rectal microbicides). I specifically work with African-American and Latino populations, MSM, and ethnic and/or sexual minority youth to develop New Media-based technology -particularly mHealth and social media- for HIV prevention, education, intervention, health promotion, treatment adherence, health management and public health practice.